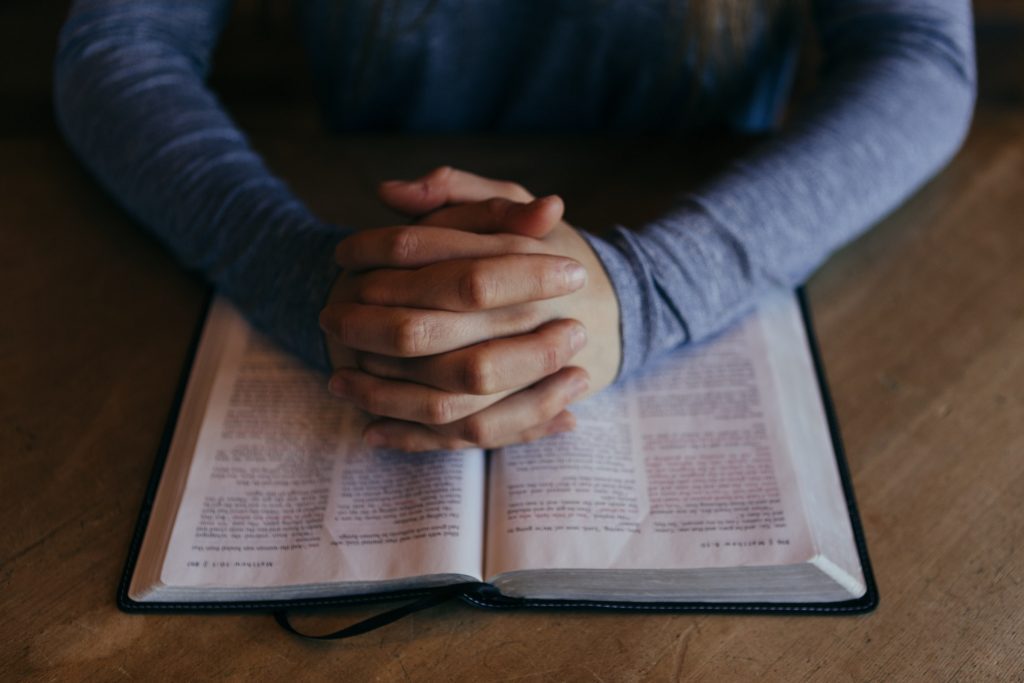 2023-24 Faith Formation
Registration opens on August 1st, 2023. Please see the link below.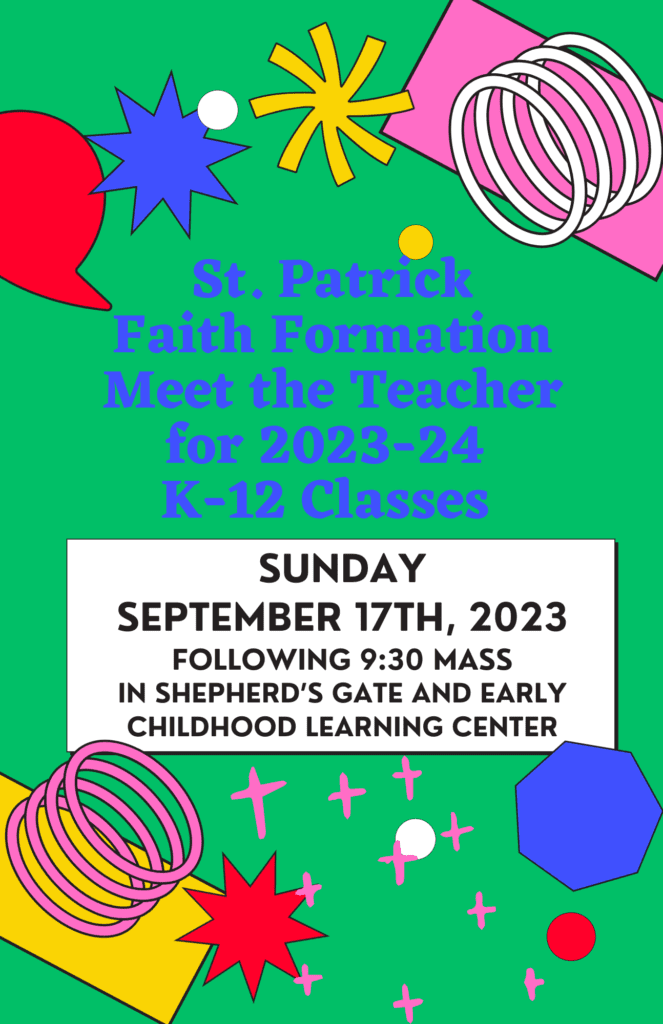 Families registering students in the St. Patrick faith formation program are required to be registered members of the parish. Registration forms are available in the office or the gathering space of the church.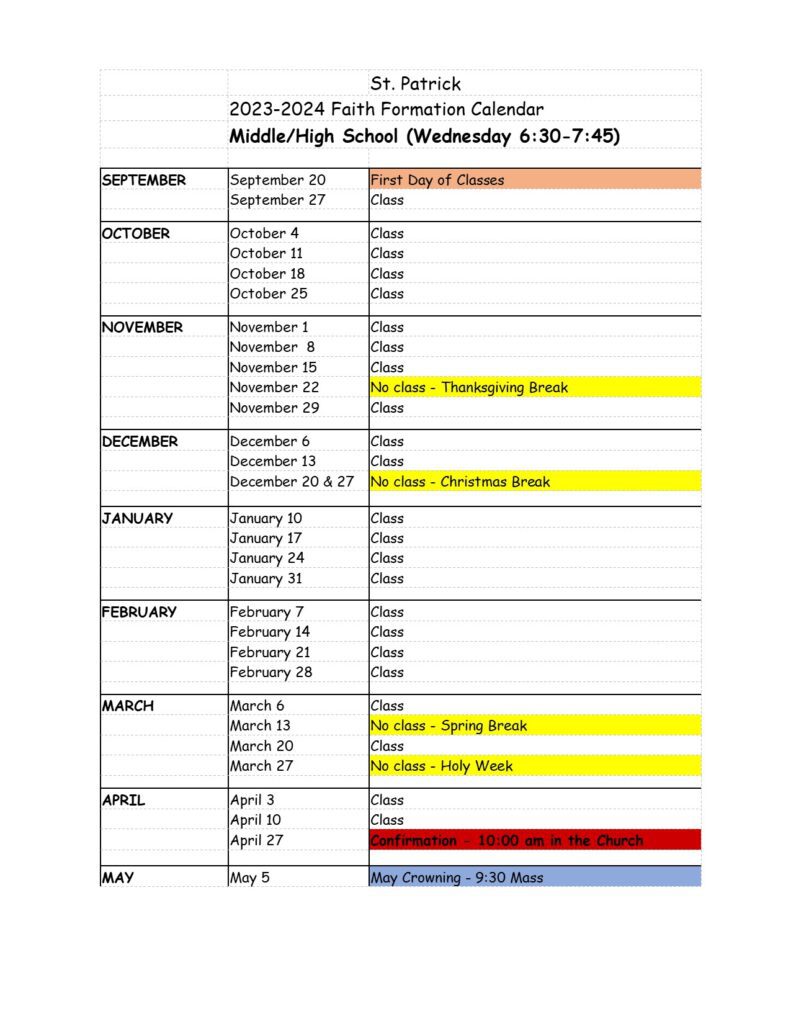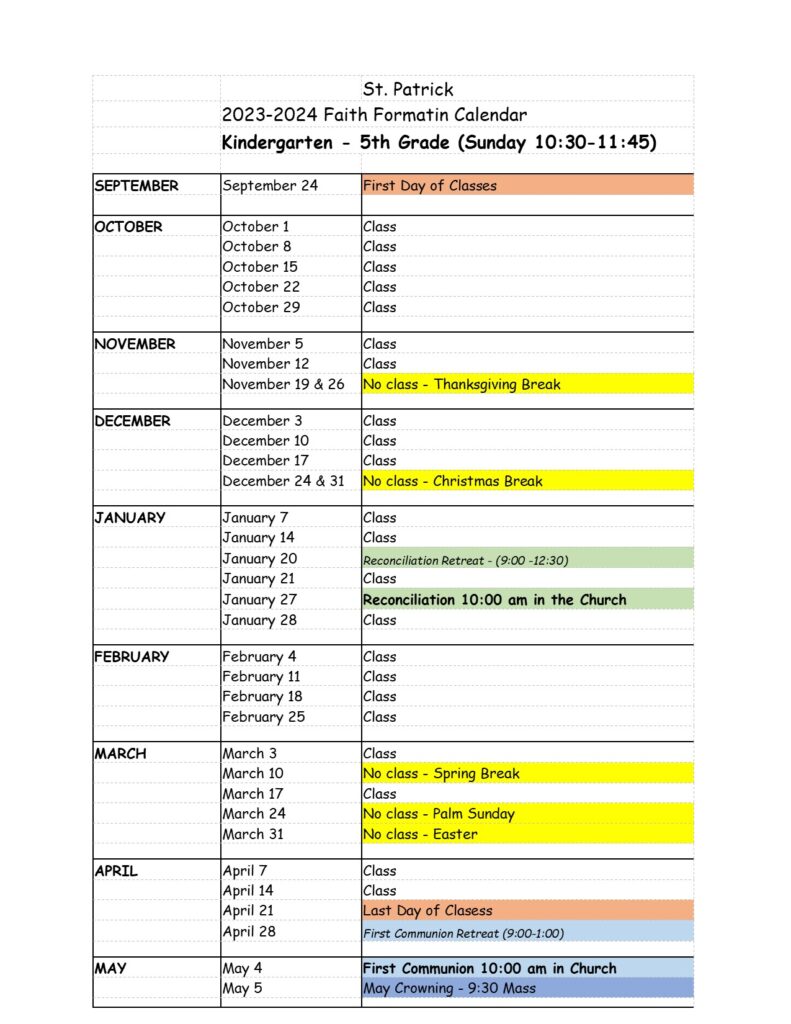 Sacraments:
The Diocese of Orlando requires all First Communion and Confirmation students participate in two years of faith formation before receiving the sacraments. Students will receive First Communion at the end of the second year. First Communion is being celebrate on Saturday, May 4th, 2024 at 10:00 a.m.
Typically, Confirmation 1 is offered in 8th grade, and Confirmation 2 is offered in 9th grade and after students have participated in two years of faith formation. Confirmation is being celebrated Saturday, April 27th at 10:00 a.m.
Many of the students have missed taking faith formation classes. This may make their track look a little different. Please note, we will do our best to ensure students are with similar aged students as they work on their individualized timing for their sacraments. This is true in many cases so students need to be reassured that sacramental preparation is a process based on faith readiness and not necessarily age and grade. It is most important that we provide students with the opportunity to have a strong faith foundation before receiving the sacrament.
All students enrolling in sacramental classes are required to provide a birth certificate and a baptismal certificate. Copies of these certificates can be dropped off at the church office or emailed to stpatrick@stpatrickmtdora.org. These documents are required in order to maintain proper church documentation as per the Diocese of Orlando.
Students preparing for sacraments are required to attend mass. Preparing for First Communion and Confirmation require students have an understanding of the Mass. There will be a sign in book for First Communion and Confirmation students in the back of the church for them to sign in weekly to show they are regularly attending mass.
Circle of Grace:
Students will participate in Circle of Grace instruction and activities in October. Per the Diocese of Orlando: "The goal of the Circle of Grace program is to educate and empower children and young people to actively participate in a safe environment for themselves and others." Students will have age appropriate subjects. More specific information from your child's teacher will be available in October before Circle of Grace is taught.
Fees:
One Child: $50
Two Children: $90
Three or More Children: $125
First Communion and Confirmation 1 Retreat Fee: $35
Confirmation 2 Retreat Fee: $35
After registering online you will be automatically directed to an online payment option or you may drop payment in the collection basket or drop it off at the church office.
All students need the following documents signed each year. In order to maintain health and safety precautions, please print them out, fill them out, and return them either via the church collection basket or dropped off at the office:
Youth Permission Slip – Liability Waiver
Youth Medical Information and Waiver
Elementary:
Grades K, 1,2,3,4,5 – These students will be using the "We Believe" series from Sadlier Religion. Pre-K faith formation will take place this year at the 9:30 mass during the Children's Liturgy. There will be no classes for Pre-K following 9:30 mass as in the past years.
Middle School:
Grade 6 – Grade 6 classes will meet in person on Wednesday evenings from 6:30 – 7:45 pm.
Grade 7 – Grade 7 classes will meet in person on Wednesday evenings from 6:30 – 7:45 pm.
Confirmation:
Grade 8 (Confirmation 1) – Chosen Year 1 (Ascension Press) Chosen Youtube Intro
Grade 9 (Confirmation 2) – Chosen Year 2 (Ascension Press)
Confirmation classes will meet on Wednesday nights from 6:30 – 7:45 pm.
High School:
Grades 10th – 12th Classes will be held in the youth room on Wednesday evenings from 6:30 – 7:45 pm. Students will discuss Catholic Social Teachings using the St. Mary's Press series Justice and Peace.
St. Patrick Youth (SPY): For information in joining our St. Patrick Youth Group (SPY), please follow the link to SPY on the website: https://stpatrickmtdora.org/ministries/st-patrick-youth-ministry/.
For more information on faith formation, contact Judi Zeller at (352) 383-8556 x. 234 or email her at jzeller@stpatrickmtdora.org or Susan Engel at stpatyouth@stpatrickmtdora.org