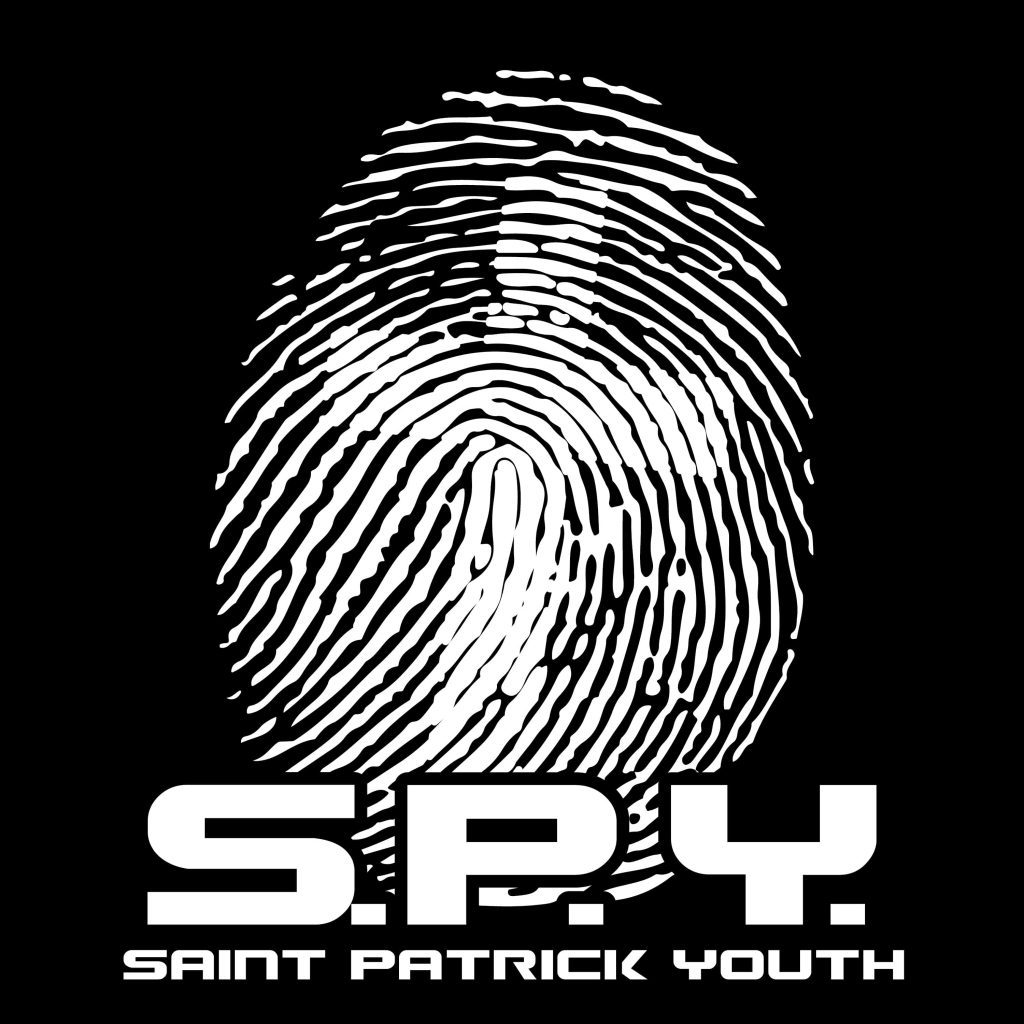 High School New Year's Lock-In!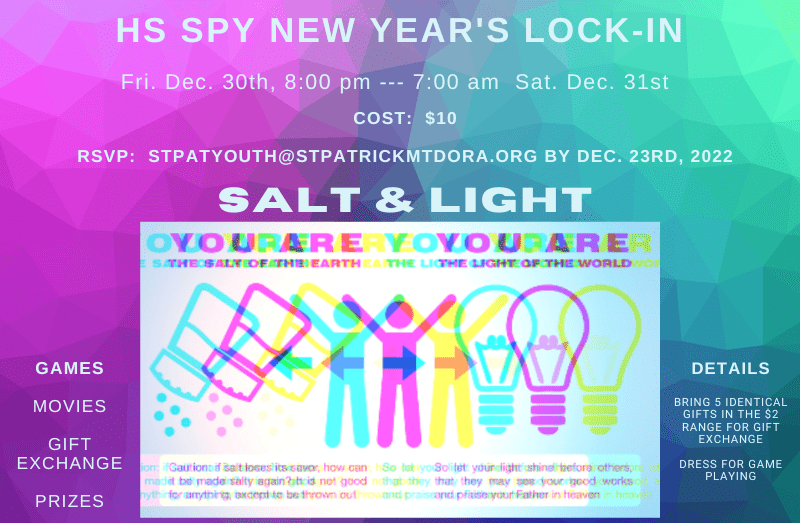 Alive in You Mission Trip Update
Thank you to all the parishioners who supported SPY on our mission trip. Your prayers and financial support helped make our trip a tremendous success. We were able to assist the people of Thibodaux, Louisiana as they continue their cleanup and rebuild from Hurricane Ida 10 months ago! This group of young people worked as a seamless team to get the jobs done. We tore down moldy walls, insulation and ceilings; we installed new insulation; we moved Catholic Charities' inventory from Thibodaux to their new thrift store in Galliano. (They had lost everything in the storm and had only gotten air conditioning in the new much smaller space the day before we arrived.) We also loaded a trailer with all the damaged "insides" of a home to be dumped. We went to mass most days of the week and were blessed with the melodies of Steve Joubert. You may ask if we had any fun on the trip? Yes! We stopped and stayed in a hotel on the way up and the way back which included a side trip for an evening at Pensacola Beach. For our day off we went to Da Swamp, which is a trampoline park and had lunch out. There were also games and music every evening along with a witness talk by staff and then our own youth. We finished the day with parish time to process and discuss the highs and lows of our day and the themes of service and Pentecost.
Fall Schedule
SPY meets every Sunday. High school meetings are on the first and third Sundays from 11-1; Middle school meetings are on the second and fourth Sundays from 11 – 1. Meetings begin with lunch and then we have different activities, games, music, discussions, prayer, that helps us explore what it means to live our Catholic faith in community with each other. All are Welcome! If this will be your first time joining us please bring a Liability Waiver Form so we have contact information in case of emergency. The waiver is at the bottom of this page. I have some printed out in the youth room.
Congratulations Class of 2022! Our mass to honor the graduates from St. Patrick took place May 22nd. Families come from diverse high schools to St. Patrick. Our graduates honored came from: Apopka High School, Eustis High School, Florida Virtual School, Homeschool High, Mount Dora High School, Tavares High School. Brian Thompson was honored with a scholarship from the Knights of Columbus. Students received a Blessing of Light.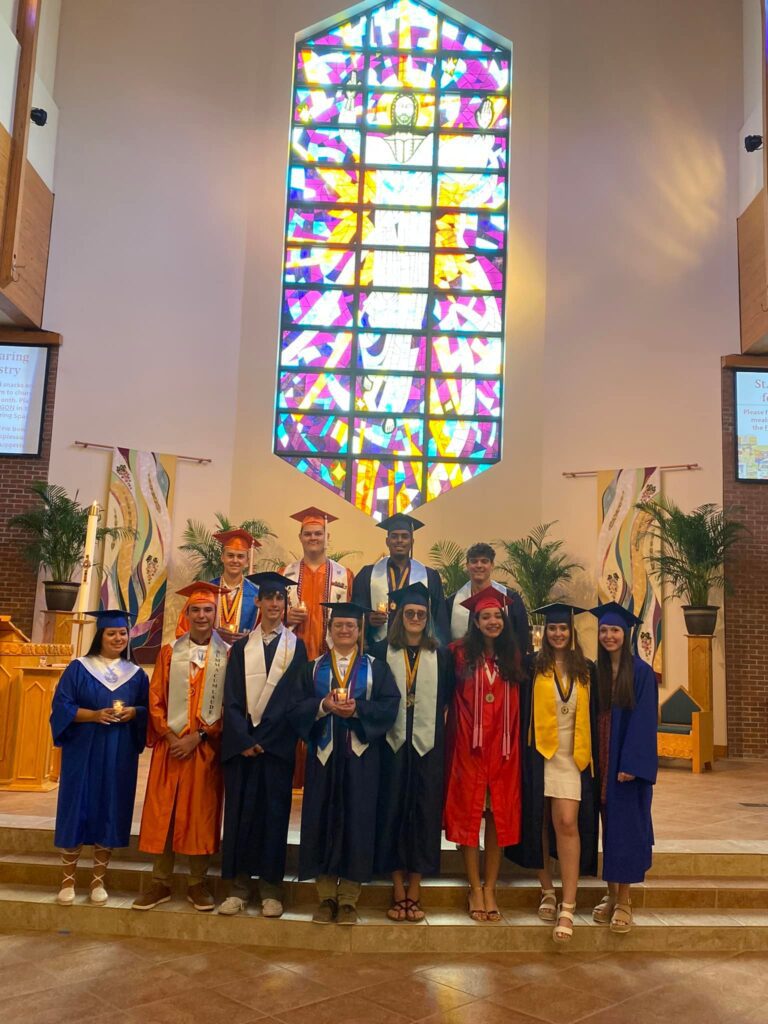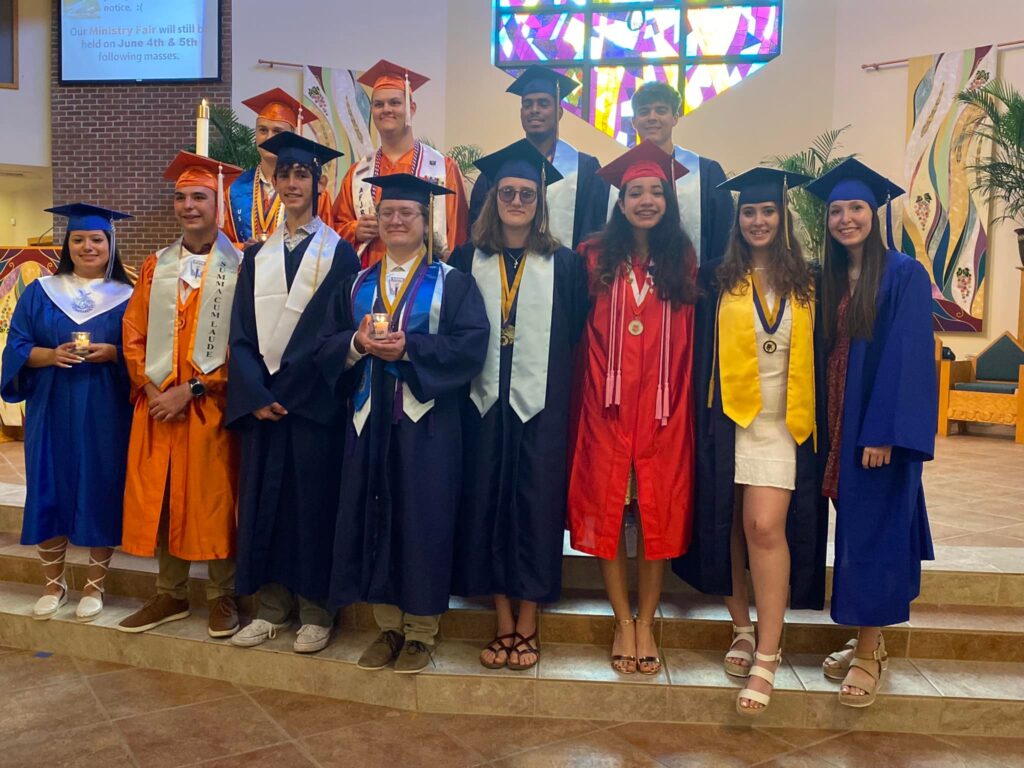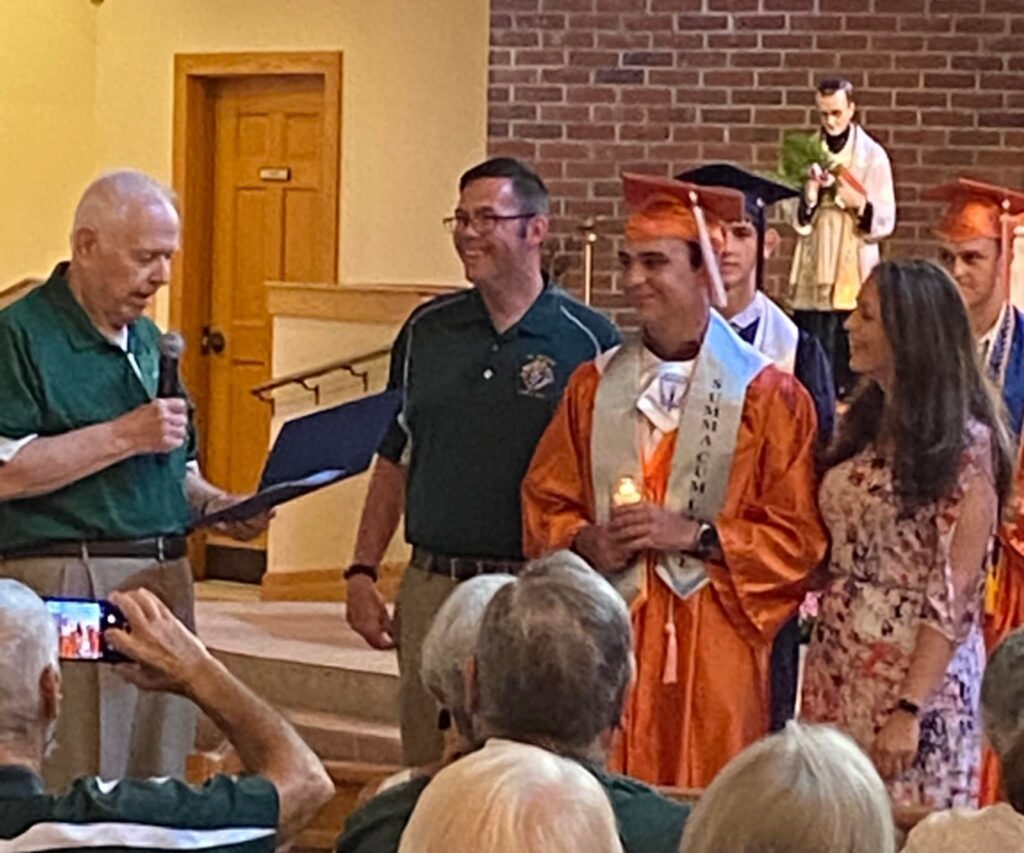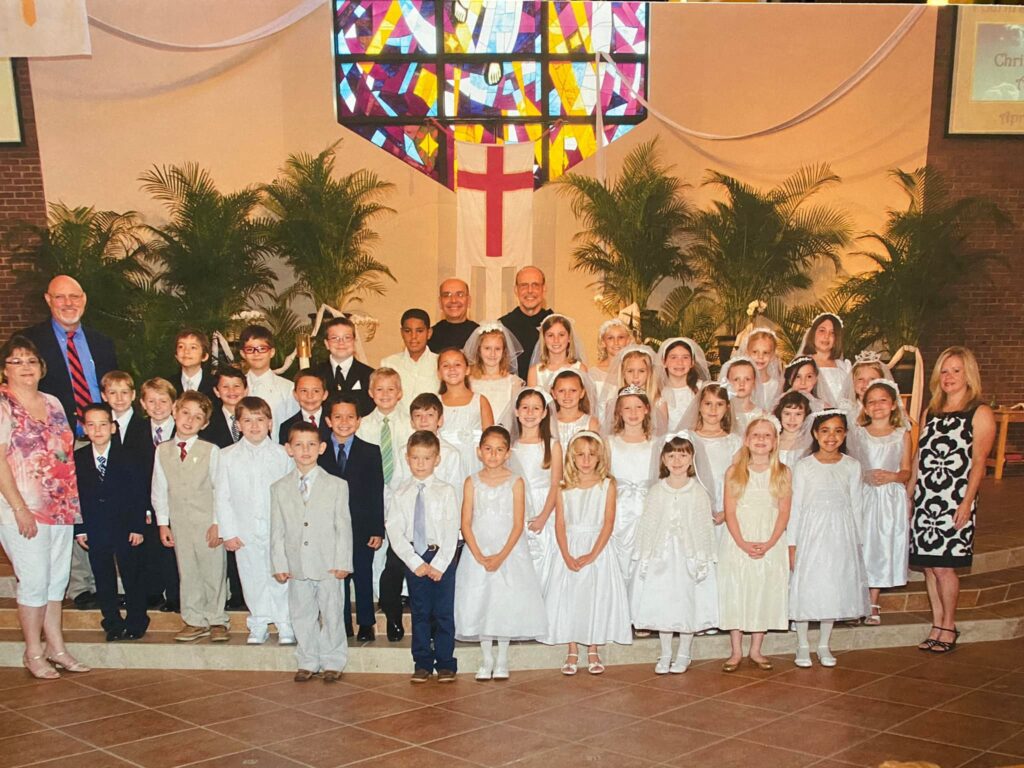 Alive in You Mission Trip to Knoxville, Tennessee – 2021
Thank you to all who supported the St. Patrick Youth in their mission trip efforts. Below is the highlight reel that shows not only what our youth did, but what the other 3 churches who participated were able to accomplish in the week of faith building.
Welcome to St. Patrick Youth Ministry! St. Patrick Youth Group is a service and social group.
SPY follows the goals of Renewing the Vision as set forth by the United States Conference of Catholic Bishops:
Empowerment – To empower young people to live as disciples of Jesus Christ in our world today.
Participation – To draw young people to responsible participation in the life, mission, and work of the Catholic faith community.
Growth – To foster the total personal and spiritual growth of each young person.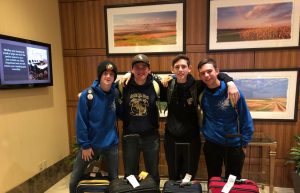 Traditionally, SPY has done many different activities. We are a social and service group exploring ways to deepen our faith as we strive to live lives as disciples. We have done many different activities that we hope to return to soon! Here are some of them: Overnight Retreats, Movie Nights, Game Nights, Bowling, Joint Meetings with other Youth Groups, Soccer Games, Orlando Magic game, Ice skating, and for those interested in stretching themselves we attend a mission trip in the summer and every other year attend the National Catholic Youth Conference in Indianapolis, Indiana.
The St. Patrick Peer Leader Group is a group of older high school youth who engage our younger students in many activities as well as acting as Small Group Leaders at the Confirmation Retreat.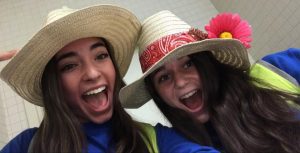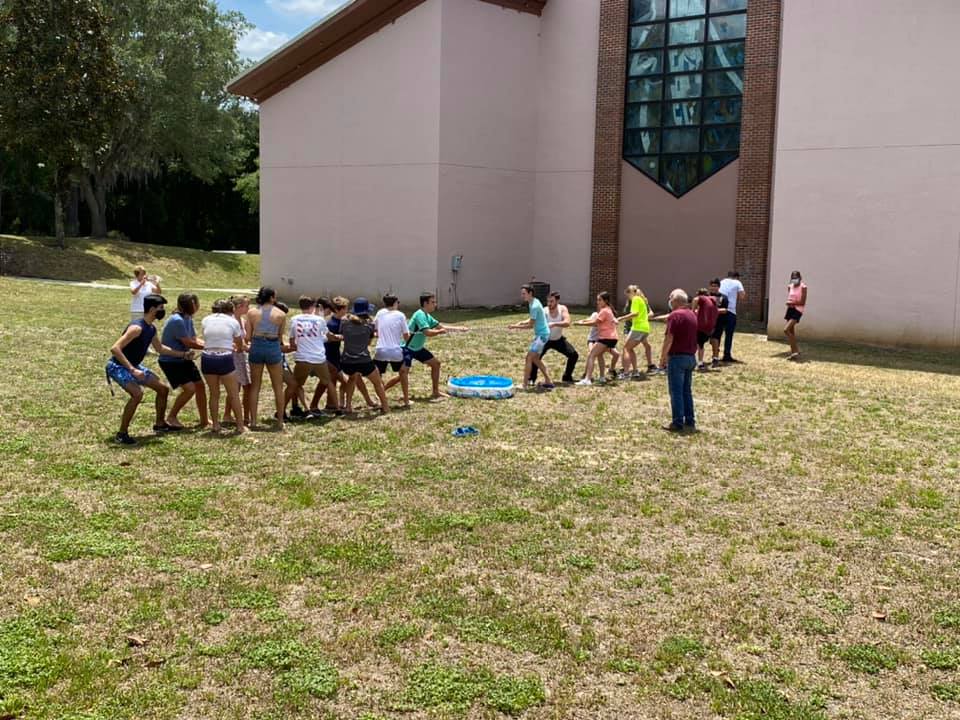 We need a liability waiver on file for each student attending SPY: Liability Waiver Orlando Diocese On-Site
For more information on the St. Patrick Youth Ministry contact Susan Engel at 352 -383-8556 ext. 31 or via email.
Youth Permission Slip – Liability Waiver
Youth Medical Information and Waiver