Updated 11/7/2020
Regathering & Reopening
Welcome Back!
In accordance with the Orange County mandate, masks are required anytime you are visiting the St. Patrick Catholic Church campus.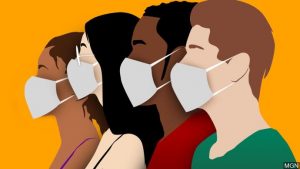 Click here to read the Orange County Executive Mandate. Click here for information from the Center for Disease Control on recommendations and directions on how to wear face masks effectively. Please also continue to safely wash hands before coming to mass, use hand sanitizer, and practice social distancing, especially, during Communion. We recognize the cases of Covid-19 have continued to rise in the state of Florida and will abide by the law to ensure the safety of everyone who comes to St. Patrick, to the best of our ability.
We will continue to do our best to provide Mass via live-stream for those who would like to participate from home. Click here for the St. Patrick Youtube channel for Sunday Mass livestream at 8:30 a.m. All Attendees to Our Parish Are Now Required to Wear a Mask. Thank you for your cooperation and support as we work together to ensure that our worship experience is safe for all!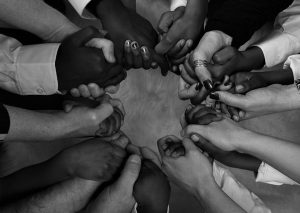 Click here for the Worship Aid for this weekend's mass Worship Aid: 11-08-20_32 OT_Livestream
The Department of Health dropped masks off at our office to ensure the safety of our community. If you are in need of a new mask, please ask! We are happy to share them so we can all be safe! Here is the list of guidelines the Department of Health dropped off: Florida Department of Health Guidelines.
Weekend Schedule:
Saturday: Church open: 2:45 p.m.
Reconciliation: 3:00 p.m.
Mass: 4:00 p.m.
Sunday: Church open: 8:00 a.m.
Church open: 10:00 a.m.
Church open: 1:00 p.m.
Please note: Each day and following each Sunday Mass, the Church doors will be locked so that sanitation procedures can be completed.
Pope Francis prayed for prudence as communities begin lifting their lockdowns.
The Holy Father said, "At this time, we pray that the Lord would give his people – all of us – the grace of prudence and obedience to the instructions so that the pandemic does not return." As this process unfolds, there will certainly be challenges, but the safety of our community will remain the benchmark.
What to expect when you come to church:
The General Dispensation from the Sunday Mass obligation will remain in place

If you are at-risk because of age or an underlying health issue, we encourage you to stay home for your own health and to avoid any risk of contracting the virus. Also, stay home if you are sick. We will do our best to continue our efforts to live-stream Mass.

Social Distancing will be maintained

The recommended social distancing guideline of six feet will need to be respected when entering and leaving the church, as well as in regard to seating and the Communion procession.

Safety practices will be implemented

All are required to wear a mask. Please remain masked until just before your turn to receive Communion, then return the mask to your face.
Please do not bring any personal items with you into the church.
Hand sanitizer dispensers will be filled, but you may also bring your own sanitizer.
Only the front doors will be open when you arrive; the side doors will be locked.
Seating will be limited to every-other row.
Members of the same household may sit together, but allow 6' between others.
After Mass, please follow the directions of the ushers to leave row-by-row and proceed directly to your car.
Coffee and donuts will be suspended.
Refrain from shaking hands, hugging, and kissing when greeting others.
The church doors will be locked after each Mass so that proper cleaning and sanitizing can take place.

Liturgical changes will be in place

The holy water fonts and stoups will be empty.
Missals will be removed from the pews. Song lyrics will be projected and you may use a smart phone or a "Give Us This Day" daily prayer book to access the readings for Mass if necessary.
The welcome at the start of Mass will be suspended.
Homilies will be brief as a way to shorten the Mass.
The offertory procession and collection will be suspended. You may drop your envelope in the collection basket near the baptismal font as you enter the church.
The Sign of Peace will be exchanged with a wave or verbal greeting.
The distribution of the Precious Blood will remain suspended.
We have a new procedure to allow for social distance for Communion. We will alternate which sections of the church go up at once in order to facilitate a single line. All will move to the left of the pew. All will receive Communion in the hand, not on the tongue. This will be explained numerous times throughout mass. Please follow direction from the ushers.
A limited number of liturgical ministers will be scheduled. There will be no altar servers and no choirs at this time.
Printed copies of the bulletin will not be distributed. The bulletin and all parish news and information is available on this website.
Online Resources during This Time of Social Distancing
During this time of COVID-19, people and communities like ours are trying to courageously practice "social distancing" for the common good. And at the same time, we are called to fight the effects of anxiety and isolation that increase when so much of our experience and understanding is being turned upside down.
Perhaps during this extraordinary moment, we might commit ourselves to finding creative ways to be Church. Let us strive to be Church with our neighbors through phone calls, video-chats, letter-writing, social media messages … the things that will remind others that they – and we – are not alone.
Unfortunately, there are some people trying to take advantage of this situation and scam people. Please note that Fr. Charlie will never email or text you asking for help. If you are unsure of a message you received please call the office at (352) 383-8556 to verify its integrity.
For more information on various resources, please click on the drop down menu and go to the topic you wish to view. We hope that sharing these opportunities will help our community stay engaged and connected.
Livestream Mass from St. Patrick at our St. Patrick Youtube channel: https://www.youtube.com/channel/UC3jhCVQwLdUbsU8-NlzhXMA
Masses Sunday (at 8:30 am) and Monday through Friday at 9:00 a.m.
Through the gift of technology, experience our Masses live as they happen, or watch them anytime
Click on this link for the At Home Worship Aid for this week's liturgy: 07-19-20 Worship Aid
La Misa en Español from St. Paul's, Leesburg
Stay in Touch with Us!
"LIKE" our Facebook Page
MyParish App: To download text "App" to 88202 or search "myParish" in your app store
View the St. Patrick bulletin
Join for emails and notifications directly from the church. Text SPMD to 84576 to receive updates and news from St. Patrick via Flocknote
Sunday Giving and Donations
The suspension of Sunday Masses is likely to have a negative impact on our parish's weekly income. The outreach St. Patrick's continues to provide, as well as the ongoing daily operations of the parish (payroll, utilities, maintenance, etc.) are dependent on your generous regular giving. If you are already giving to the parish online – thank you! If you would like to learn how you can give online, please click Here. Also, the parish office will remain open, so you can mail or drop off your envelope or contributions. Thank you for your generosity!