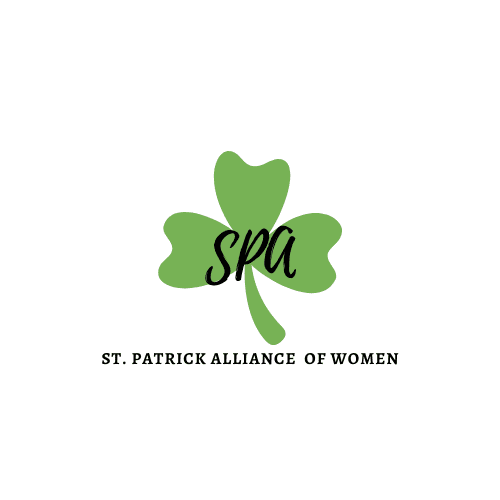 Saint Patrick's Alliance of Women, better known as SPA, is well and thriving. Our basic principles are to be a St. Patrick women's organization pursuing spiritual, service and social endeavors (the three S's).
Our next meeting will be Mar. 27. Sign in starts at 11:30 a.m. with social and brown bag lunch to follow. Information on speaker or program is forthcoming. All women of the parish are welcome. We hope to see you on Mar. 27.
Throughout the pandemic, SPA has remained steadfast and endured the lock down, church and business closings, and toilet paper shortages. We have learned there are things we can do without; we prayed and learned new hobbies. We prayed; we used Zoom to stay in touch with our loved ones. We prayed. Through our prayers we have become better.
Now, with the vaccine being distributed, albeit slowly, there is light at the end of this tunnel. It is time for us think of what is ahead of us and say good bye to what we left behind.
I would like to take some time to remind everyone what SPA has done this past year. We have this really marvelous group of women that has come together to bring joy.
When SPA first began, we were able to have regular meetings. Once a month we had a morning and an evening meeting to accommodate all the women in the Parish. This worked out well. At our meetings, we had some really great guest speakers that opened our hearts to our Parish and local communities. I will list some of the speakers that impacted us:
Heidi Lott—who let us know different ways we could be of service as individuals and as a group.
John Kossol—informed us on addiction and the opioid crisis.
Gloria Powers (Sharon Torres at the evening meeting)—spoke about the mission in Uganda and ways we could help.
Kris Buddendorff—talked about St. Luke's free medical clinic.
We had a speaker from Samaritan Village, part of Catholic Charities ministries, which help those that are at risk for human trafficking.
And our last speaker, in March 2020, was Julie Scaringella who spoke about Life's Choices. This is a Eustis pregnancy crisis center that helps with education and guidance to pregnant women and their families.
From our speakers we developed some of our service projects.
Service
Collected back packs and personal items for Samaritan Village.
Donated school supplies and sheets for the Uganda Mission.
We gave much needed supplies to Life's Choices.
Other projects we have been involved in:
Furnished refreshments for the Parish's Lessons and Carols.
We had the Cookie and Brownie table at Mardi Gras
Helped the Knights of Columbus sell tickets for the Fish Fry.
Cleaned all the plant pots for the church.
During the lockdown, in conjunction with the Prayer Shawl Ministry, we made over 600 masks for local first responders.
For Advent we created the beautiful Advent Banners, depicting the O Antiphons.
Just before the lockdown, at the meetings, we had a jar set out for donations for Sr. Judy's charity, St. Elizabeth's Caring for Kids. They provide food to children in need through the local schools.
We also collected and donated money and gift cards for Thanksgiving and Christmas baskets in 2019 and to the church's outreach program and for the Christmas gift cards for 2020..
Social
Circles of Interest was started to help get women together that had similar interests. Our circles of interest include a Spirituality Group, Book Club, Games Circle. These interest groups have had a busy year. Our travel circle took a trip to St. Augustine and to the casino in Tampa. We had fun with crafts making a Valentine bracelet, a life of Jesus bracelet and of course the beautiful ribbon angels. We had two Christmas parties and a brown bag picnic at the pavilion in November, where we played games and enjoyed time together after such a long separation.
Unfortunately, due to the Covid lock down, most of our circles had to temporarily suspend activities until the church fully opens again.
Spiritual
Each of our meetings begin and end with prayer. Many of our members are part of prayer groups that pray for those in need. We have members who attend daily mass and members that are EMHC, Lectors, choir members/cantors and sacristans. Most of our members are belong to other ministries.
One of the best events we sponsored was the Day of Reflection with Carol Stanton as our guest speaker.
As you can see, SPA has been very active, in spite of Covid and lockdowns. We had only been an active organization for 6 months when the Covid lockdown began. Everyone has remained involved throughout the lockdown by continuing to provide service as well as communications through newsletters and emails.
Good News! We have started to have meetings again. They are held at the pavilion behind the church. At our meeting on Saturday, Feb. 27, Deacon Chuck Lee was our guest speaker. He spoke about Lent. Everyone who attended enjoyed having Deacon Chuck there.
Our next meeting will be Mar. 27. Sign in starts at 11:30 a.m. with social and brown bag lunch to follow. Information on speaker or program is forthcoming.
All women of the parish are welcome. We hope to see you on Mar. 27.